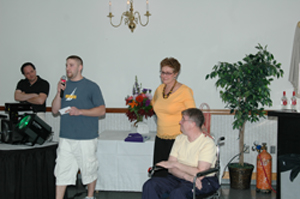 In 2006 we started to fundraise for the Multiple Sclerosis Walk in Towson, MD. Every year we strive to raise as much awareness, and provide as much assistance to those affected by this disease. Over the past years of fundraising we have reached our goals each year and we hope this year is no exception. This year our goal is $20,000 and with your help we can reach that goal!
My name is Alex Wilson and for many years I have witnessed first hand this horrible disease. My father was diagnosed when I was 8 years old. Over the years I grew to know the ins and outs of Multiple Sclerosis, and I learned that as of now there is no cure. It was when I was 14 years old that I actually experienced the symptoms of MS at a Recreation lacrosse game. My father had come to see me play for one of the only times, and the farthest he got was the parking lot in the passenger seat of our conversion van. See the wheelchair we had at the time couldn't get him down to the field, and there was no other way for him to get down there. I knew at the end of the game when I played very well that it crushed him to not see it. It was then I knew it was going to be a long hard road ahead. I was only 14 years old. Everyday from that moment on I have started to dedicate everything I can do to helping, and fundraising for the cause. There have been setbacks, and there have been positive movements in my journey with MS. I will not give up trying to find a cure and make the hundreds of thousands of Americans plagued with this disease. I hope that by reaching out to all of you reading this and volunteering, that I can inspire you to join the fight against Multiple Sclerosis. As The originator of this group I have worked diligently in the effort to raise awareness, and raise money towards finding a cure for this horrible disease. Although my family has the added stress they find every available moment to volunteer, and help the National Multiple Sclerosis Society Maryland Chapter.
Every year going forward this group will be involved in every effort to support the cause. So now we will ask you to join the cause and help Fight MS Now!